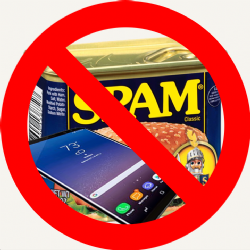 Last week I was navigating an unfamiliar highway with the help of Google Maps. Exit in 0.5 miles. When I entered the ramp I was faced with a fork in the road (reminds me of Robert Frosts' poem!). Split to the left to another local highway. Split to the right to the road less travelled. Not an issue, since for the most part Google knows which path to take.
Well, Google did know which way to go but as I approached the fork, a SPAM MARKETING CALL came in and made it impossible for me to see the map. As recently as 3 days ago I was getting anywhere from 3 to 5 spam calls every day. Of course I don't answer calls from numbers I don't recognize but still, the interruptions are well, just that. Interruptions.
I'd tried several apps that promised extensive up to date blacklists of all the telemarketers but the fact is, those guys simply keep changing their numbers. Blocking them does not good. One of their favorites is to emulate the first 6 digits (area code and exchange) of your cell number to make it look kind of familiar to us.
Then 2 days ago everything changed! My cell phone fell silent! With the exception of two calls, one from a business acquaintance and the other from my Uncle Phil, my cell phone has only been seen and not heard! I finally found a call blocking app which does exactly as it promises. Kind of surprised it took this long as the concept is so simple.
"Call Blocker" by Vlad Lee has an option in settings, "Block All Numbers Except Contacts." So what if someone not in your contacts calls you and it's important? Call Blocker allows the blocked caller to leave a message. It's silent. Your phone doesn't ring. When you look at your phone, you can see the "push" notification that you have messages and check them at your leisure.
The app is free. Although I'm on Android and "Call Blocker" is an Android app, it looks like the developer (Vlad Lee) has created something similar for I-phone called "Calls Blacklist." Can't vouch for that one but since his Android version works like a charm, I-Phone users may consider trying out "Calls Blacklist."
Here's to the silence!
Are you "just visiting" here on Planet Gems?!
Not a Gems Family Member Yet?
Would you like to
Reduce your dependence upon the Evil Insurance Empire?
Have the Gems Team and me train your team?
Enjoy increased new patient flow without spending a ton on advertising
Gain consistently higher case acceptance on a wide range of treatment
Build a smoother operating team of ACCOUNTABLE happy folks
Help your patients achieve optimal health and longevity
Work LESS and make much MORE MONEY?!
Build WEALTH and AUTONOMY for you and your family?
LIMITED TIME OFFER
1/2 OFF Your 1st Month, Normally $497.00.
YOU'LL SAVE $250.00 Pay ONLY $247
For Your 1st Month, ZERO RISK.
FIRST MONTH FULL
MONEY BACK GUARANTEE !
STEP 1. Go to www.GemsAreEasy.com/303372
STEP 2. Listen to Dr. Brown's Story
STEP 3. CLICK "JOIN PLATINUM" BUTTON
One-time offer is available only to new members (you've never been a Gems Platinum Member before). Pay only $247 for your first month. The usual $497 monthly Platinum Fee will not be charged until your second month. No continuing obligation. If you are not 100% DELIGHTED, you may cancel at the end of your 1st month and request a FULL REFUND of the $247. Platinum Membership is month-to-month. You may cancel at anytime if you are not delighted.