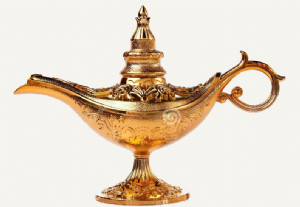 Imagine if there were a "Magic Phrase of Marketing..." One short sentence your team could learn in less than 30 seconds and deploy today... Just 21 "magic" words proven to increase your new patient flow by as much as 15% per year. This Magic Phrase really does exist and will cost you absolutely nothing...
In fact, there are TWO Magic GEMS you can inject into your practice to turbocharge new patient flow with zero additional marketing.
MAGIC GEM #1
Your team member, Jill, is on the phone with a new patient, Betty. Jill did a great job. Said all the right things and did so with a smile on her face and a delightfully positive attitude. She wraps up the call by thanking Betty for calling, reassuring her that she's going to love Dr. Smith and the entire team, and reconfirming the day, date and time.
She even remembered to use Dr. Cialdini's principle of commitment and consistency in order to measurably increase the likelihood that Betty will call if she needs to change the appointment. BUT WAIT! Add one more sentence and you will ADD 10% TO 15% MORE NEW PATIENTS this year and every year until the day you retire...
"Betty, while we're on the phone, is there anyone else in your family for whom I can help make an appointment?"
If your team uses a "New Patient Phone Slip" to ensure consistency when speaking with prospective new patients on the phone (and they should be using one!) be sure to add that final question at the bottom and you will measurably increase your new patient flow.
MAGIC GEM #2
Undiagnosed high blood pressure can lead to a stroke or heart attack in unsuspecting hypertensives. Undiagnosed periodontal disease can cause bone loss, tooth loss, and worse, systemic infection which can lead to serious medical complications.
What does that have to do with new patient flow? A LOT. You may not be risking your health but you are most certainly risking your wealth.
Most dentists are unaware that 26.7% of your prospective new patients call your office when you are unable to pick up the phone. After looking at data from over 100,000 inbound calls to dental practices, I found more than 1/4 of your prospective new patients were calling before work, nights, weekends, holidays and even while you were open but your team was over the top busy simply unable to answer one more line.
How much do you lose when you miss one new patient call?
The average new patient in a general dental practice spends $4,800 (ALV or "Average Lifetime Value"). If you only missed one new patient per month, you're losing $57,600.00 per year. Sadly most practices are missing out on multiples of that.
The good news is that my Ultimate Phone Concierge (UPC) PHONE SCHEDULING TEAM can step in and answer the calls your in-office team is currently missing, early morning, after work, nights, weekends, holidays and more.
Because that's all my team does, we have a (much) higher prospect on the phone to new patient in your chair close rate than even your excellent team members.
I'm SO CONFIDENT you'll LOVE your phone concierge that I'll do it for FREE...
Try us for 30 days. We'll take ALL the risk, you take NONE. If you're not thrilled with our service let us know after 30 days and we'll refund every penny you paid. Of course, you'll keep the new patients we scheduled during the times your team couldn't answer!
Special Offer through Midnight EDT Thursday, 10/5/17
Save $500 off new member programming and activation
Your FIRST FOUR NEW PATIENTS are FREE ($300 Savings)
ZERO-RISK 110% SATISFACTION Guarantee. 30-Day Zero-Risk Trial Offer
To take advantage of this special offer...
CLICK "Get Started Now"
ENTER SPECIAL CODE "Magic" in the yellow box at top of the page
Looking forward to helping you add more new patients, grow your practice and your revenues, have a little more fun and make a lot more money!
Warm regards,
Dr. Tom "The Gems Guy" Orent
Are you "just visiting" here on Planet Gems?!
Not a Gems Family Member Yet?
Would you like to
Reduce your dependence upon the Evil Insurance Empire?
Have the Gems Team and me train your team?
Enjoy increased new patient flow without spending a ton on advertising
Gain consistently higher case acceptance on a wide range of treatment
Build a smoother operating team of ACCOUNTABLE happy folks
Help your patients achieve optimal health and longevity
Work LESS and make much MORE MONEY?!
Build WEALTH and AUTONOMY for you and your family?
LIMITED TIME OFFER
1/2 OFF Your 1st Month, Normally $497.00.
YOU'LL SAVE $250.00 Pay ONLY $247
For Your 1st Month, ZERO RISK.
FIRST MONTH FULL
MONEY BACK GUARANTEE !
STEP 1. Go to www.GemsAreEasy.com/303372
STEP 2. Listen to Dr. Brown's Story
STEP 3. CLICK "JOIN PLATINUM" BUTTON
One-time offer is available only to new members (you've never been a Gems Platinum Member before). Pay only $247 for your first month. The usual $497 monthly Platinum Fee will not be charged until your second month. No continuing obligation. If you are not 100% DELIGHTED, you may cancel at the end of your 1st month and request a FULL REFUND of the $247. Platinum Membership is month-to-month. You may cancel at anytime if you are not delighted.