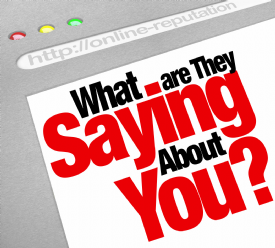 Unfortunately one of the questions I'm getting from Gem's Family members more and more often is how to respond to a terrible review left by an irate patient.
The internet presents awesome opportunity.
It can help us in so many ways. But it also has the power to cause massive rapid damage if you let it. In the old days if a patient was ripping mad at a dentist the old adage was, "A happy patient will tell a friend and an unhappy patient will tell 10 friends."
Even 10 people hearing how terribly you treated for Mrs. Jones was cause for concern. Today an unhappy patient can tell hundreds if not thousands through Instagram, Twitter, Facebook and beyond. And then there's Yelp and Google!
Should you respond to the review at all?
Although there may be instances in which you are better off not responding, in most cases it's in your best interest to respond if it's done correctly. Of course if you respond in such a manner that gives readers the feeling that you lack empathy and understanding for your patient's situation and concerns, it will be worse than not responding at all.Prior to posting your response you may want to run it by your attorney. Be sure your attorney is aware that time is of the essence. The sooner you can craft and post an appropriate response to a bad review the better off you will be.
4 Critical Elements of an Effective Response
Before I cover the 4 elements, let's be really clear regarding TO WHOM WE ARE WRITING THIS AND WHY...
Although you are "responding" to the terrible review... you are NOT responding to your patient. Sure, your response WILL be written as if you were responding to the patient. But if that were your primary objective you could accomplish that via email, phone or a letter sent to her home. The PRIMARY REASON you are posting your response is for DAMAGE CONTROL. Your response is written for the benefit of:
A) Your EXISTING patients who may happen upon the bad review and wonder about YOUR side of the story, and
B) PROSPECTIVE new patients who don't know you from Adam... and are considering coming to your practice.
#1 First and foremost apologize.
To be clear I'm not suggesting that you admit to a less than adequate clinical treatment outcome. Rather, I would apologize for how they ending up FEELING. Remember, it's far more often about "feelings" than anything else. EVEN if money is involved (which it often may be). "Mrs. J, you've been a great patient. I am truly sorry how you felt after our last visit."
#2 Empathize. Put Yourself In Their Shoes.
Remember, you're NOT writing this for the benefit of Mrs. Jones... you may even feel that she was SO out of line with her comments that you hope she never again sets foot in your office. You are writing this to PROTECT YOUR REPUTATION ON-LINE... to DEMONSTRATE that, regardless of the situation, you are a caring, feeling, empathetic human being. "Mrs. Jones, I can certainly understand the way you are feeling... in fact, if roles were reversed and I were in your shoes, I may feel the same way."
#3 USE HIPAA as the Reason NOT to Get Specific
"Of course, HIPAA regulations prevent me from commenting on any of the specifics of your treatment."
#4 Offer to Make it Up to them If they'll Give You a Chance
"If you'll give us another chance, to show you our appreciation, I would like to give you and your family an early Christmas present... professional take-home whitening kits including custom trays, PLUS touch-up kits for the next two years... all at no-charge, with our thanks."
In the last 6 months, two of my Gems Family members have suffered terrible online attacks. At their request, I wrote each of them POWERFUL COUNTERMEASURES using the above principles and more. I would urge Gems Insiders' Circle members to read exactly what I wrote for each of these two doctors to post in response. I hope you never need them, but may one day find you could use them as a template in your own defense, on-line. Go to the members' website and search "082 COUNTERMEASURES TO NEUTRALIZE BAD ONLINE REVIEWS". You'll find my video team training plus the actual responses I wrote.
Are you "just visiting" here on Planet Gems?!
Not a Gems Family Member Yet?
Would you like to
Reduce your dependence upon the Evil Insurance Empire?
Have the Gems Team and me train your team?
Enjoy increased new patient flow without spending a ton on advertising
Gain consistently higher case acceptance on a wide range of treatment
Build a smoother operating team of ACCOUNTABLE happy folks
Help your patients achieve optimal health and longevity
Work LESS and make much MORE MONEY?!
Build WEALTH and AUTONOMY for you and your family?
LIMITED TIME OFFER
1/2 OFF Your 1st Month, Normally $497.00.
YOU'LL SAVE $250.00 Pay ONLY $247
For Your 1st Month, ZERO RISK.
FIRST MONTH FULL
MONEY BACK GUARANTEE !
STEP 1. Go to www.GemsAreEasy.com/303372
STEP 2. Listen to Dr. Brown's Story
STEP 3. CLICK "JOIN PLATINUM" BUTTON
One-time offer is available only to new members (you've never been a Gems Platinum Member before). Pay only $247 for your first month. The usual $497 monthly Platinum Fee will not be charged until your second month. No continuing obligation. If you are not 100% DELIGHTED, you may cancel at the end of your 1st month and request a FULL REFUND of the $247. Platinum Membership is month-to-month. You may cancel at anytime if you are not delighted.