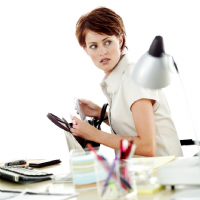 What could possibly be more traumatic than having your dental practice burn to the ground? How 'bout learning that the only computer backups were lost along with everything else in the fire. Worse than that... Dr. Bob's trusted office manager of 19 years was the one who threw the backups back into the building... right after she set the fire! When Mindy Salzman, CFE (Certified Fraud Examiner) first told me that story I thought I'd heard the worst possible embezzlement story. Turns out she had many that were equally shocking and a few with even worse consequences.
It's most often your least expected most trusted team member crossing the line to the dark side (stealing from you). One dentist I know personally lost $300,000.00 over a period of years before he realized a penny was missing. Over 50% of dentists have been or will be embezzled. Mindy was kind enough to share a checklist of RED FLAG WARNING SIGNS of embezzlement and PREVENTION STEPS all dentists should be taking in order to minimize the risk. There is no way to guarantee you won't be embezzled, but the following information from Mindy is an excellent start to insure you're doing what you must about it.
Embezzlement: Be Prepared
A. Red flags
Increase in past due accounts
Decrease in collections
High pressure collection tactics
Decline in job performance
Changes in personality
Staff member with newly found wealth
Staff member who is overly protective of their duties
Staff member who takes work home
Co-worker complaints
Employee who borrows from petty cash and other staff members
Employee who is resistant to change
B. Proactive tips for embezzlement prevention
Educate yourself
Learn to use your computer system
Check daily reports and question all adjustments
Compare early morning schedule, end of day schedule & daily report
Background checks for potential employees
Bond employees against theft
Practice what you preach
Be visible
Vary your schedule
Verify all credit card charges
Protect your signature
Practice what you preach
Send bank and credit card statements to home address
Separation of duties
Secure all documents
Protect your identity
Display fraud and embezzlement policy
Identify current systems at risk
Verify insurance coverage for loss protection
If you think you may already be a victim of embezzlement, contact Mindy at mindy@dentalembezzlement.com
Would you like to enjoy:
increased new patient flow & higher case acceptance,
smoother team operations & happier healthier patients
Work LESS and make much MORE MONEY?!
FIRST MONTH FREE*
Gems Platinum Family!
STEP 1. Go to www.GemsAreEasy.com/303372
STEP 2. Listen to Dr. Brown's Story
STEP 3. CLICK "JOIN PLATINUM" BUTTON
*You'll pay only $7 one-time shipping fee. Your first month in Gems Platinum will be FREE. The usual $497 monthly Platinum Fee will not be charged until your second month. No continuing obligation. You may cancel at anytime if you are not delighted.